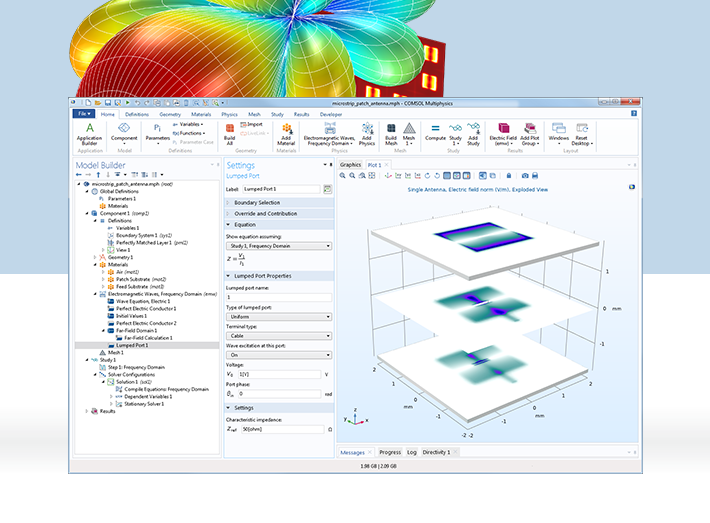 You are invited to join us at COMSOL Day Toronto for a day of multiphysics modeling training, talks by invited speakers, and the opportunity to exchange ideas with other simulation specialists in the COMSOL community.
View the schedule for minicourse topics and presentation details. Register for free today.
Schedule
9:00am
Introduction to COMSOL Multiphysics® and the Model Builder
This introductory demonstration will show you the fundamental workflow of the COMSOL Multiphysics® modeling environment. We will cover all of the key modeling steps, including geometry creation, setting up physics, meshing, solving, and postprocessing.
10:00am
Invited Speakers
Andrew Prudil, Canadian Nuclear Laboratories
Modeling Nuclear Fuel: A Study in Multiphysics
Nuclear fuel experiences a complex environment of elevated temperatures, temperature gradients, mechanical loading, thermal expansion, swelling, densification, radiation, and continuously evolving composition and microstructure. Understanding and predicting the coupled, aggregate behavior is crucial for optimizing the design and operation of the fuel. In this talk, I will present two COMSOL Multiphysics® models developed for modeling the continuum and microstructural aspects of nuclear fuel.
11:00am
Introduction to the Application Builder and COMSOL Server™
Learn how to convert a model into a custom app using the Application Builder, which is included in the COMSOL Multiphysics® software. You can upload your apps to a COMSOL Server™ installation to access and run the apps from anywhere within your organization.
2:00pm
Structural Mechanics Minicourse
Get a brief overview of using the Structural Mechanics Module and its add-on modules within the COMSOL® software environment.
3:00pm
Optimization Minicourse
Learn to use gradient-based optimization techniques and constraint equations to define and solve problems in shape, parameter, and topology optimization, as well as inverse modeling. The techniques shown are applicable for almost all types of models.
Acoustics Minicourse
Get a brief overview of using the Acoustics Module within the COMSOL® software environment.
Invited Speakers
Andrew Prudil
Canadian Nuclear Laboratories
Andrew Prudil completed his PhD and postdoctorate in nuclear engineering at the Royal Military College of Canada, where he developed models of nuclear fuel behavior. Currently, he works at Canadian Nuclear Laboratories in the Fuel & Fuel Channel Safety Branch. He focuses on the development and application of computer models to improve the safety, economics, and sustainability of nuclear energy. Andrew has contributed to commercial, government, and academic R&D projects such as fuel irradiation safety cases. He has also coauthored numerous journal papers, conference papers, and reports. Most recently, he coauthored a textbook on nuclear engineering that is being published later this year.
Register for COMSOL Day Toronto