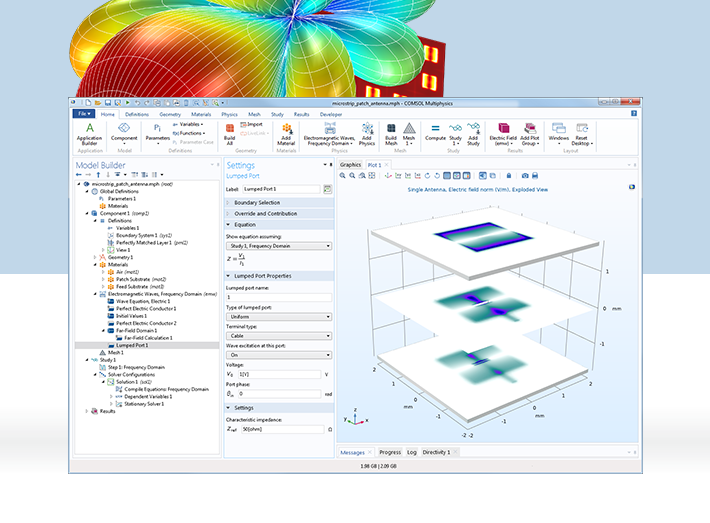 You are invited to join us at COMSOL Day Pune for a day of multiphysics modeling training, talks by invited speakers, and the opportunity to exchange ideas with other simulation specialists in the COMSOL community.
View the schedule for minicourse topics and presentation details. Register for free today.
Schedule
10:00 AM
Introduction to COMSOL Multiphysics® and the Model Builder
This introductory demonstration will show you the fundamental workflow of the COMSOL Multiphysics® modeling environment. We will cover all of the key modeling steps, including geometry creation, setting up physics, meshing, solving, and postprocessing.
12:00 PM
Introduction to the Application Builder and COMSOL Server™
Learn how to convert a model into a custom app using the Application Builder, which is included in the COMSOL Multiphysics® software. You can upload your apps to a COMSOL Server™ installation to access and run the apps from anywhere within your organization.
01:45 PM
Parallel Minicourses
Electromagnetics Minicourse
Get a brief overview of the electromagnetic modeling tools of COMSOL Multiphysics® with a focus on the AC/DC Module, RF Module, Wave Optics Module, and Ray Optics Module.
03:30 PM
Parallel Minicourses
Modeling Chemical Engineering
Perfectly mixed isothermal systems, perfectly mixed reacting systems, and reacting systems with spatial variation
Diffusion and convection in diluted and concentrated solutions
Mass and heat transfer within porous catalysts coupled with reaction chemistry
Surface reactions, thermal effects, gas-phase reactions, porous catalysts, and optimization of yield and throughput
Register for COMSOL Day Pune
This event has ended. Visit the event calendar to view upcoming events.